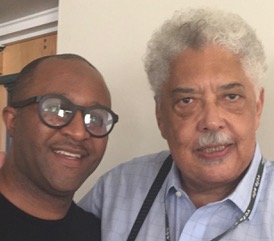 Teaching Composition at VCFA
Posted: August 20, 2019
I was asked to come to the Vermont College of Fine Arts during their Summer Residency. They offer a MFA in Music Composition. I still consider myself a performer, who also composes. I realize I have quite a body of work, and that I have been at this for some time now, but still… It was quite a thrill for me to be asked to teach! I had a great time. The faculty is great, hard-working, and attentive to their students. It is a very interesting program, and I encourage you to check it out.


Rufus, Diane Moser, Gregg August
It was at the insistence of Diane Moser that I found myself at MCFA. Thank you, Diane, for being persistent!

Gregg August, Quincy Davis, Rufus Reid