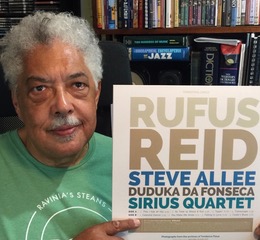 Newvelle Records Week at The Jazz Standard, NYC
Posted: August 20, 2019
September 3-8, 2019, The Jazz Standard is offering some unusual and very special fare. Newvelle Records has been given the week to showcase their Four Seasons of Recordings. Tuesday, Sept 3, I will be performing there with the group that recorded Terrestrial Dance, The Rufus Reid Trio plus The Sirius Quartet, for Newvelle Season Two. You will see and hear Steve Allee, piano; Duduka Da Fonseca, drums, myself on bass, with First violinist Fung Chern Hwei, Second violinist Gregor Huebner, Founding violist Ron Lawrence, and Cellist Jeremy Harman of the Sirius Quartet. We have a great time performing together, plus we have new music since the recording so plan to come for both sets. We will not repeat ourselves! Plus you can meet Elan Mehler, Co-Founder of Newvelle Records.
It is suggested that you make reservations!

Friday, Sept 6, 2019, Newvelle is introducing Billy Lester, from Season Four. Matt Wilson will be performing as will I. Check this very special pianist out. I think you will be glad you did!