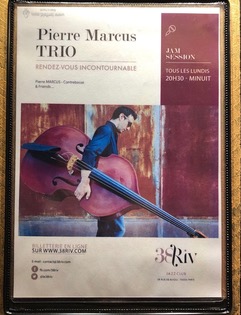 My kind of Poster for any event!
Posted: February 23, 2020
Le 38 RIV Jazz Club and Bar, Paris, is hosting this poster. It was discovered by my nephew, John and Marinda Neumann. Great photo of Pierre Marcus.
As you see in the post below, we had a wonderful celebration of my music at Dizzy's Club last year. This year, March, 2020, I am taking that music to the prestigious WDR Band in Cologne, Germany. See Performances.
Also coming up,The Youth Orchestra of the Arkansas Symphony Orchestra, with Conductor Geoffrey Robson, will be performing my Symphonic work, "Mass Transit," April 10, 2020, in Little Rock, AR. Join us if you can!
Wishing you all a beautiful year!