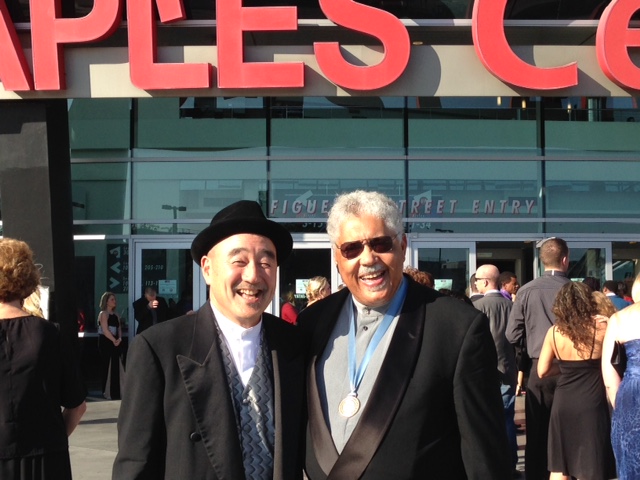 Back to Real Life!
Posted: February 15, 2015
I had a great time at the GRAMMYS.  The best was to share this unique experience with our two dear friends, Marji Fujiki and Akria Tana. Akira was my Producer on this recording project, QUIET PRIDE. I did not get the award, as you already know, in either category, but it was a true experience. The love all around me has been, simply, FANTASTIC!  This was my first GRAMMY experience and what an experience it was.  This experience has empowered me to keep doing what I do. I will continue down this intriguing and very exciting compositional path and, more importantly, continue to be true to myself at all times.  Who knows, it may happen happen again one day!  What I do know is that the great feeling I have this very moment is very real and wonderful!
Congratulations to winners, John Williams and Gordon Goodwin. It was an honor to be mentioned in the company of all of the nominees.  Can you think how I felt when I saw my name on these two screens!!!
The day before the Grammy Awards was dedicated to significant individuals with a Special Merit Award. This was truly a lovely tribute. Masters Wayne Shorter, Buddy Guy, Pierre Boulez, George Wein, Ray Kurzweil, George Harrison, Cynthia Weil and Barry Mann, The BeeGees, and more were awarded.
At least one Motéma Artist is bringing home an award. A huge CONGRATULATIONS TO Arturo O'Farrill for his well deserved Grammy. BRAVO my friend!
Another CONGRATULATIONS to Billy Childs for his GRAMMY. He is one seriously BAD CAT! I am so happy for him.
It was great to hang a bit with John Clayton, Billy Hart, and Yosvany Terry at the surreal After Party!  Justin DiCioccio and Ron McCurdy conducted the Grammy High School Big Band and Vocal Ensemble respectively, which were really special and sounded fantastic! I did not get a chance to meet the Grammy Band bassist, but she was EXCELLENT AND SWINGING! GO GIRL! Hope to meet you one day.
CONGRATULATIONS to my Motema fellow artists who were nominated for GRAMMYS.
The love and well wishes I have received from all of you has been astounding! Thank you so much.
Here I am ready for the show!  Live from The Staples Center with Akira Tana!
I adore you, Akira!!
Taking in LA sights!  And answering phone calls!
Edgar Meyer was also up for two GRAMMY'S and he received one!  So well-deserved, so happy for him, and so proud to know him.  (that is his son next to him!)  On the left, Jeff Levinson, a really sweet friend.
With Kitty Margolis!  What a beauty, and what a singer!  Check her out!
At the LifeTime Achievement Awards.  Herbie Hancock here to especially honor Wayne Shorter! 
Here he is, the man of the hour, Wayne Shorter!  Congratulations, Wayne!  I am so happy for you.