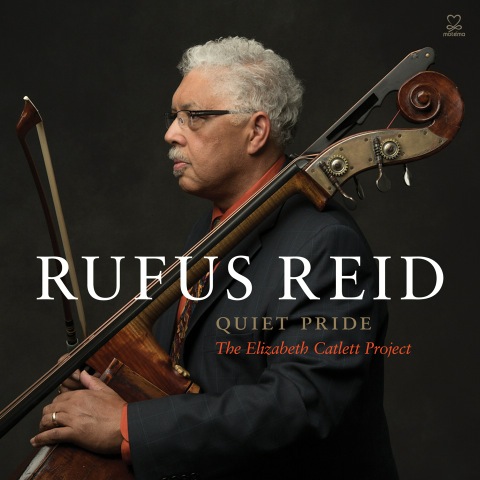 A Fantastic Evening at The Jazz Standard – The Quiet Pride CD Release!
Posted: March 18, 2014

It was fantastic. I hope you were there. These 20 outrageous musicians assembled and played like we had just played yesterday. The second set, we were flying! Both sets were sold out – to people who had no idea what to expect! This music is nothing like the Trio and Quintet Groups I have. This five-movement suite was conceived in response to my feelings about the sculptures of Elizabeth Catlett.
I have two French horn playing with this big band because I like that sonority! John Clark and Vincent Chancey gave us their gorgeous sounds. I had total freedom to create what I liked to hear, so I did! The counterpoint lines of the unison bass and the bass clarinet with the unison voice and guitar creates a special sound. It almost becomes another kind of instrument. Charanee Wade sang vocalize. She has a wonderful deep rich quality in her voice. Vic Juris is a brilliant musician, a brilliant, creative and exciting improviser. He also can read anything you put in front of him! Which is a really great attribute.
Steve Wilson led the woodwind section. It is quite apparent why he is in such demand. He has that rich lead alto sound and great solos as well. I was so pleased that Erika von Kleist was able to join us, flying in from Montana for the week. Her sound on the flute is truly special. Scott Robinson is one special multi-instrumentalist. But here he just played tenor and clarinet, and every time he solos, he tells a story. I purposely wanted Tom Christensen as the other tenor saxophonist, opposite Scott, as they truly have their own individual voices, distinctly different. I have Carl Maraghi on baritone saxophone and bass clarinet because I like his sound. He has a full and rich sound. That made the woodwind section totally intact, as the recording.
Michael Dease's sound on the trombone is incredibly lush, and he solos with great agility. Ryan Keberle has this huge, powerful, punchy sound. His solos take command. Dave Taylor grounds the trombone section with his deep full-bodied sound. I love the sound of trombones and these four gentlemen truly took care of business.
All three trumpet players who soloed brought their individual styles each time they played. But as a unit, they were one. The long, cascading linear lines of Tim Hagans are like no other. Freddie Hendrix brings a soulful passionate element to the music every time he plays.
I was fortunate to have only four subs on this band of 20 musicians for this one night. Trumpeter Michael Rodriguez came in without rehearsal to play with us and knocked this music out of the box. Michael has a gorgeous sound and his harmonic awareness is right on. Greg Gisbert, always in demand, took the lead trumpet chair and played beyond my expectations, which were already high! He certainly knows what to do. Luis Bonilla on trombone stood up and shouted. His presence was very apparent and succinct.
Jonathan Blake on drums, with his dynamic control, ignited the band. He possesses power with accuracy. But what makes that special is that he keeps it loose at all times. That is something special. He and I hooked up incredibly well. Steve Allee rounds out the rhythm section with his buoyant presence. His comping style ignites and propels the music. I love everything that he brings to my music. Steve Allee caresses every note I play. Between Vic Juris, Steve Allee, Jonathan Blake and myself, the rhythm section was as good as it gets. Music just oozes out of these guys. The music in the Jazz Standard Wednesday night was something to shout about. What fun we had!
To connect all the dots with the music and the musicians, we were graced with the presence of a very special conductor. Dennis Mackrel took the helm and kept everybody intact. I was truly blessed to have him on the recording as well as this event. If you missed the gig, check out the CD. But remember, there is nothing like listening to live music.