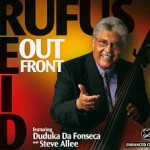 Rufus Reid Performs
Posted: January 29, 2014
18th Annual African American Music Heritage Institute Concert – February 3, 2014
For the very first time I am having the great honor and opportunity to have my orchestral music and my big band music performed on one concert. I will be in Louisville, KY, with the Univ of Louisville Symphony Orchestra conducted by Kimcherie Lloyd, performing my three movement Orchestral work, Mass Transit, and a second piece with the strings and big band entitled Moods. And that's just the first half of the program.
On the second half The University of Louisville Jazz Ensemble, conducted by John LaBarbera, will be performing my original compositions and arrangements: Come Out and Play, The Meddler, Time for Nostalgia and Ode to Ray. I will also be performing a John Goldsby composition, entitled Forgotten But Not, arranged by John LaBarbera.
Jerry Tolson, a professor of music at the University of Louisville, invited me to participate in this annual event. This celebration of the history of the music of African Americans features concerts, clinics, lectures, and workshops for elementary and secondary school students, University of Louisville students, and the general public. This annual initiative was created 18 years ago by U of L Jazz Studies professor Jerry Tolson to help promote cultural diversity.
One week later, February 11, 2014, will mark the official release of Quiet Pride – The Elizabeth Project. I am pinching myself every day as these incredible events unfold. If you didn't know, February 10th is my birthday. This will be the best 70th birthday present that one could ever dream of!!