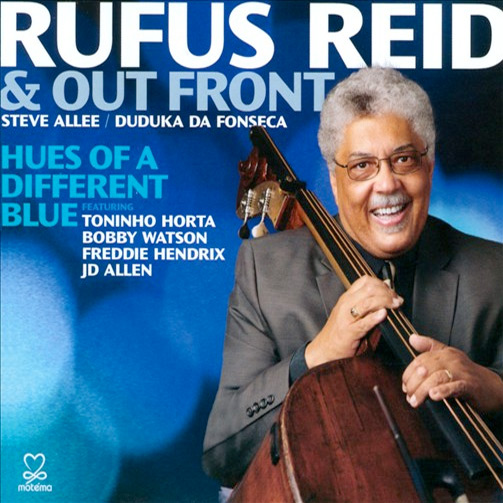 Hues of A Different Blue
Posted: April 2, 2011
Featuring the Out Front Trio of Reid, Steve Allee (piano) & Duduka Da Fonseca (drums), with very special guests, legendary saxophonist Bobby Watson, trumpeter Freddie Hendrix, saxophonist J.D. Allen & master Brazilian composer/guitarist Toninho Horta. Produced by Suzi Reynolds and to released on April 12 on Motema Music.
The Making of Hues of a Different Blue

Since their previous recording, Out Front, the fantastic chemistry of the Out Front Trio (Reid w/Steve Allee and Duduka Da Fonseca) has only grown stronger and deeper, plainly evident in their reading of Reid's new compositions and the standards that comprise Hues of a Different Blue. "We were also amazed to witness an immediate camaraderie and excitement for the music throughout the sessions from our new musical guests as we met and made music together with them for the very first time. For me, this is what the real meaning of jazz is!" stated Reid.
While Reid was certainly "the architect" (as Allee called him) of the project, the making of Hues of a Different Blue was geared toward featuring everyone in new and exciting formats. Reid explains further, "In designing these arrangements, my goal was to feature the unique sound of the trio and the unique voice of each guest, in unexpected ways that would offer a new musical experience for each player, and an exciting new surprise for you as well. I'm delighted with the results and hope you will be too."
With Hues of a Different Blue, Rufus Reid has created an album of music that can best be described with one word, unforgettable; clearly for the musicians, but most importantly, for the listeners. It is a joy in life to witness an artist hitting a creative stride; Rufus has been on one for many decades, and that continues unabated with this recording. It is a valuable experience beyond measure to view great visual art, to read exceptional literature, and to hear extraordinary music, as each piece carries with it the possibility for us to reflect on ourselves and humanity, and delight us in ways we never thought possible. Hues of a Different Blue accomplishes just that, and as Rufus says in his velvet baritone, "you can't get any better than that."