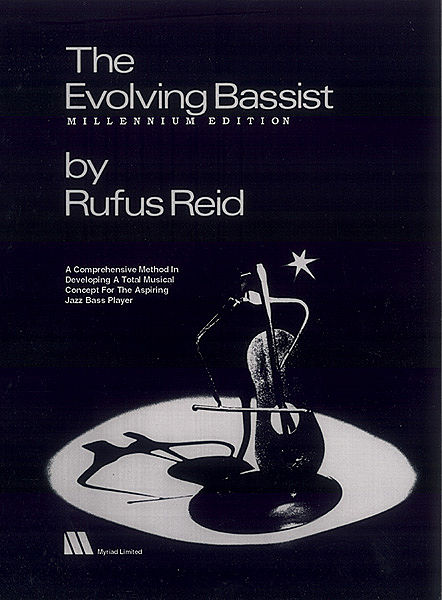 Rufus Reid
The Evolving Bassist
Millenium Edition (Book)
Please note: The Digital Edition of The Evolving Bassist is not printable.
To purchase a physical copy of the book please contact Rufus.

For US orders: $29.95 including shipping
For International and Priority Shipping: Please inquire for shipping rates.
The Evolving Bassist book was first published in 1974. The response from the bass world was overwhelming. It became the industry standard for bass method books. Twenty six years later, I felt that I needed to devote the time to do a major revision. In addition, I have always wanted to integrate the information in my second book, Evolving Upward, Bass Book II. Now the concepts for developing upper thumb position technique, which is essential to the musical palette of the contemporary bass player, are found in The Evolving Bassist.
The Millennium Edition was published in the year, 2000! Time moves on, and again I felt there was a change needed. The Evolving Bassist needed to become digital. I again went over the material and I put it up for downloading in 2020. The fundamental material has been kept intact because classic concepts do not change. The responsibilities of the jazz bassist are astronomical. It is not just walking quarter notes. The individual creativity needs to be nurtured without diluting the job description of a jazz bassist. My experience from performing and teaching has taught me that there were more things that needed to be addressed and stated more clearly.
The Millennial Edition also includes more transcriptions from my recorded solos, original compositions arranged as duets, new etudes and additional ways to learn tunes and conceive better bass lines. Information is given dealing with practical, "real life" situations for traveling and recording. Answers to frequently asked questions about amplification, equipment, electronic pickups, and microphones are also included.
THE EVOLVING BASSIST is designed to take you through the process to help you become that consummate bass player. It is dedicated to the student who may have difficulty finding and/or being able to afford a regular teacher. This method book is an aid to help you help yourself now. It will also continue to be be your reference book as you and your playing mature through the years.