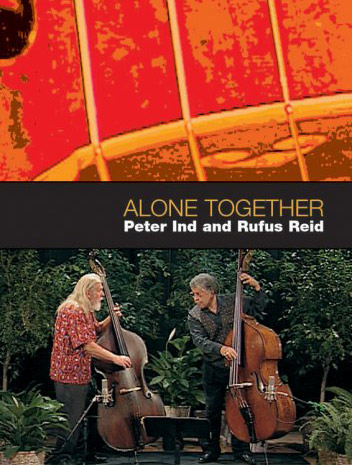 Peter Ind and Rufus Reid
Alone Together (DVD)
To purchase please contact Rufus.
For US orders: $25 including shipping
For International and Priority Shipping: Please inquire for shipping rates.
On "Alone Together" by Peter Ind and Rufus Reid, two long time friends share favorite songs uniquely arranged for the rare pairing of two basses. Shot in an intimate setting, Reid and Ind draw you in with their joy of making music.
Alone Together is a study in style and technique for any acoustic bassist. DVD special features include song introductions and instruction, question and answer with Ind and Reid and a sampling of Ind's paintings.
Quasimodo (Charlie Parker)
Love Walked In (Ira Gershwin, George Gershwin)
Alone Together (Howard Dietz, Arthur Schwartz)
Stardust (Hoagy Carmichael, Mitchell Parish)
317 East 32nd Street (Lenny Tristano)
Topsy (Edgar Battle, Eddie Durham)
Almost But Maybe (Rufus Reid)
Summary (Thaddeus Jones)
Cherokee (Ray Nobel)
Body And Soul (Edward Heyman, Robert Sour, Frank Eyton, John Green)
Fantasy (Peter Ind)
Pick Yourself Up (Jerome Kern)
Zingaro (Antonio Carlos Jobim)
Big Foot (Charlie Parker)