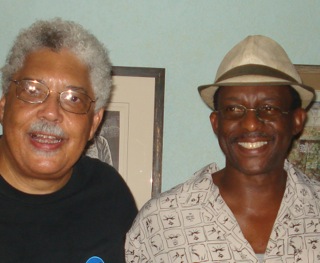 Snug Harbor, New Orleans
Posted: November 9, 2017
Tonight I will have the privilege of performing with Herlin Riley, an old friend who recorded "Quiet Pride ~ The Elizabeth Catlett Project" with me, and with Ellis Marsalis with whom I have never played. I am really delighted for this opportunity. We'll be doing too sets at Snug Harbor. Hope you can come!
I was brought to New Orleans by the University of New Orleans to work with some of their student ensembles and perform with them at their Jazz At The Sandbar series. Last night I performed with Steve Masakowski's guitar class. That means seven guitars!! They are all really good, interesting players and we had fun. I also played with Oscar Rossignoli's combo. They wanted to play my tune, "Come Out And Play" and we did! What a surprise for me. These guys can play! Jazz at the Sandbar is located on the Lakefront campus, and people come out for this event.
Today I will be at the UNO Jazz Studies Program doing a clinic that is open to the public. I'm told the public does come. Great! We'll have a good time.