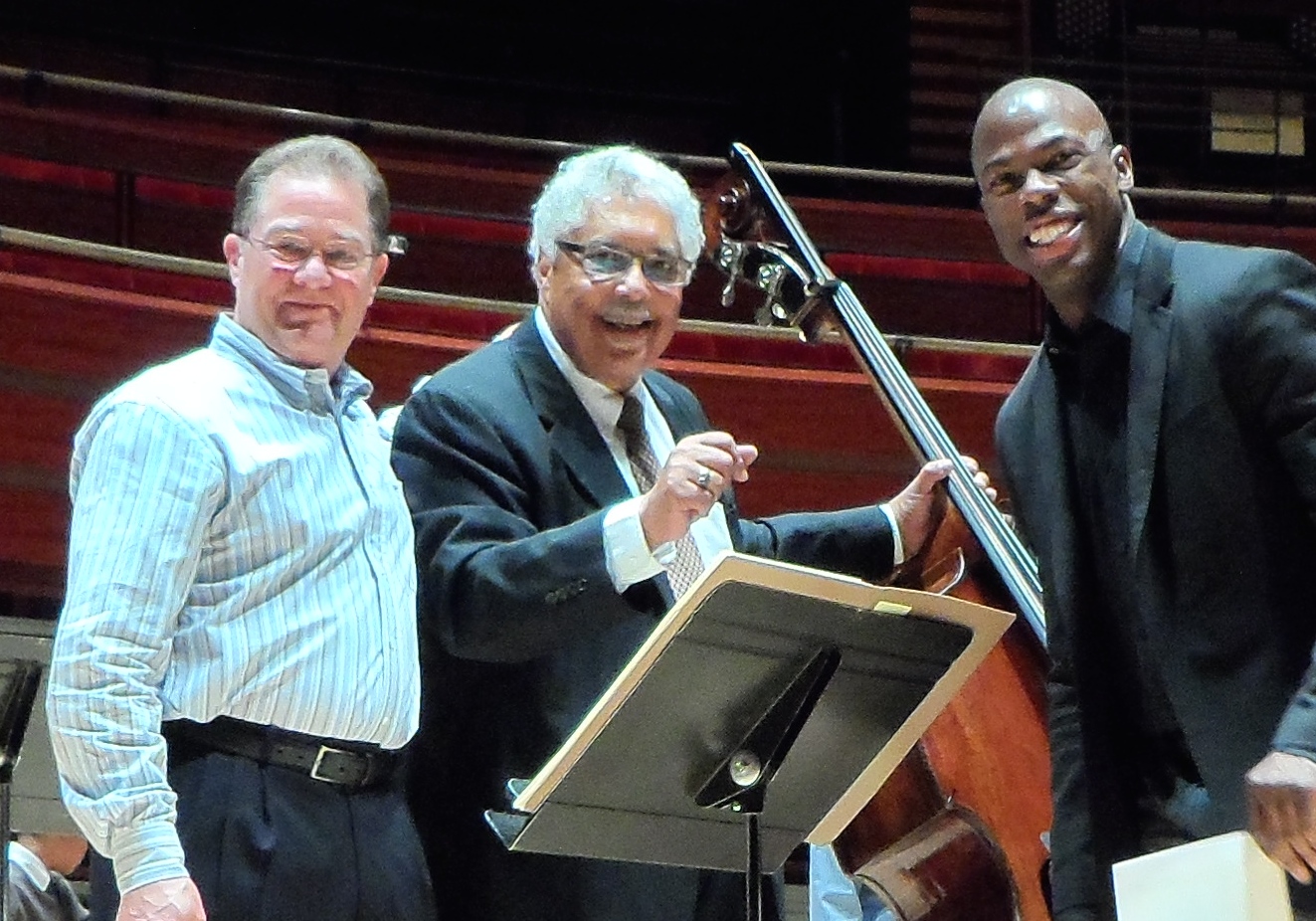 Philadelphia Orchestra PlayIN for Double Bass
Posted: May 6, 2014
A PlayIN for Double Bass? Sounds like something I would like. I checked with Joseph Conyers and he said I could participate! So there I was, with 60 other participants of all ages at the Kimmel Center in Philadelphia, May 3. Can you see the stage? All those basses! What a sight! AND Hal Robinson, Principal Bass, Joseph Conyers, Assistant Principal, David Fay, Robert Kesselman, Duane Rosengard, Henry Scott, Conductor, and Davyd Booth, piano.
The program was from George Vance's Progressive Repertoire for the Double Bass, Volumes 1, 2, & 3. Hal Robinson and I played a duo on Paul Chambers' Whims of Chambers. That was a total blast to swing and solo with Hal, who, BTW, was killin'! See the faces of the young players watching us as we played. Then, we played an excerpt of the infamous Eccles Sonata in G minor. We also played the Gershwin classic, Someone To Watch Over Me, and two classic Beatles songs, Eleanor Rigby and Yesterday.
To wind up this illustrious afternoon, we played the Recitative and Chorale from Beethoven's Symphony No. 9 in D minor into the glorious theme, Ode To Joy. This was extra extra special with The Philadelphia Orchestra Maestro, Yannick Nézel-Séguin, conducting us.
I was so honored to be participating in this event. Congratulations to Joseph Conyers and all involved in making this event and all other PlayIN events possible.
The idea of PlayIN is brilliant. To bring the young players of all ages and backgrounds to play along side and experience, up close, the high level of the professional players from the orchestra. The energy of that day was electrifying. I was placed between Hall Robinson and Joseph Conyers. How intimidating is that? WOW! Performing next to these magnificent bassists was special. The inclusion and respect of various styles of music was very special to me. You don't witness these attitudes in such a public manner sponsored by such an important organization as The Philadelphia Orchestra. BRAVO!
There have been PlayIn's for Brass, Harp and Woodwind before this one. Enjoy the videos on their site. There will be one of the bass event up soon!
Some Photos from the Event. (Click thumbnails for a larger version)