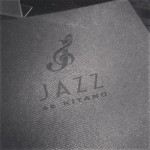 An evening of Jazz at The Kitano
Posted: November 30, 2013
Did anyone see the New York Times Jazz Listings about us?
Nate Chinen said:
"Out Front is the longtime outlet for Mr. Reid, a bassist with more than 40 years of experience. A trio with the pianist Steve Allee and the drummer Duduka Da Fonseca, it upholds a cruising, unflappable vision of postbop — here as on a recent, self-titled album."
Your acknowledgment is always appreciated.
Thank you, Nate!
My "Out Front" Trio worked the Kitano Jazz Room last night. It was great to play with Steve and Duduka again. We played music from our two recordings, "Out Front" and "Hues of a Different Blue." We added some new tunes by Stevie Wonder and Charles Mingus. We also paid homage to good friend, Cedar Walton with "Bolivia." What a great tune that is. Wish I had written that one!!
We had a great crowd both sets, very responsive. A lot of our dear friends and fellow musicians graced us with their presence. From our peers, this is the highest form of compliment.
We performed "Caress The Thought" which is a tour de force for the trio from our "Out Front" recording. Michele Brangwen, dancer and choreographer, who was present last night, choreographed "Caress" a few years ago for her dance ensemble. That was a first and a real thrill for me!